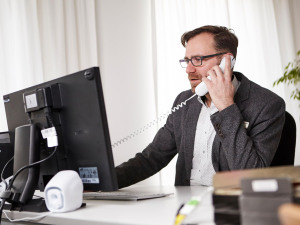 Around 180,000 residents live in the district of Lüneburg, which is located due south of Hamburg. The District Council, which is based in Lüneburg, is a public authority that is responsible for municipal tasks and takes care of citizens' concerns - from vehicle registration and the issuing of building permits to environmental protection.
Starting point
In 2015, TA Triumph-Adler was awarded the contract to replace the printer and copier infrastructure in the head office and schools run by Lüneburg District Council with equipment that was tailored to requirements. Prior to the cooperation with TA Triumph-Adler, the Lüneburg District Council had an organically grown printer and copier infrastructure with little transparency and high administrative costs. Each system required a different toner. The Council's requirements of its new service provider, in addition to meeting legal regulations covering data privacy and environmental protection, are high quality products, reliability and good service at affordable prices.
The solution
Some 250 printers in the Council's offices and 55 multifunction systems in the district's schools were replaced as necessary, and the TA Cockpit® asset and system management system was installed, which is a web-based control centre that provides a constant overview of all the connected systems. The devices were rolled out within one day without interrupting operations, even when there was public traffic. "TA Triumph-Adler prepared the rollout very well, from delivery and replacement of the devices to their disposal. We were always able to reach our personal rollout manager," says Stefan Domanske, IT manager at Lüneburg District Council.
"In the schools alone, we have reduced our costs by an average of 25%, eliminating the need for maintenance and ordering."
Stefan Domanske, IT Manager at Lüneburg District Council
The result
The District Council has improved its efficiency while reducing costs: "In the schools alone, we have reduced our costs by an average of 25%, eliminating the need for maintenance and ordering." The new printer fleet is monitored by TA Cockpit® automatically. The IT team can access status messages and coordinate technician deployments from anywhere and the amount of toner is reduced. "We have an overview of the entire infrastructure and the costs incurred. This makes my budget planning a great deal easier." The number of printers has also been reduced. "This conserves my budget and the environment and improves the environment in the office," adds Domanske.
You might also be interested in: