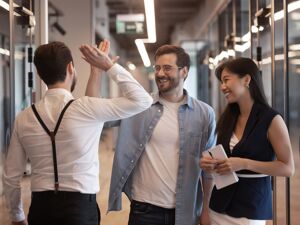 Having a dependable partner at your side allows you to tackle your transition to digital processes more courageously and successfully. TA Triumph-Adler is that partner.

TA Triumph-Adler is your guide to entering the world of the digital office. We provide you with everything you need for the workplace of the future, and all from a single source. We develop and deliver end-to-end solutions that cover the entire document handling process in a networked and mobile office.

Triumph and Adler have been familiar and illustrious names in offices since the 19th century. Formerly known mainly for typewriters, we are now prominent in the printers and copiers market. However, we prefer to talk about MFPs, or multifunction printers, because our devices have long since been digitally upgraded with a wide range of optional extras.

Handling documents has been our core business for over 120 years, and we are now bringing this expertise into the digital era. We act as your go-to partner when it comes to archiving, managing and editing documents in digital form. Our services range from an entry-level archiving solution to a customised ECM system. If you want something more, just get in touch with us and we will deliver it!

That way you can concentrate on your core business.
TA Triumph-Adler in figures
50 sites around the world
A powerful parent company, Kyocera
More than 1,200 employees
400 consultants
500 service professionals
22% market share* in Germany
* according to IDC, output systems sold in 2018 in the B2B segment (sum of TA Triumph-Adler, UTAX and Kyocera)
Everything runs more smoothly with TA Triumph-Adler
From capturing to processing to archiving, TA Triumph-Adler covers the entire workflow of digital documents. At the same time, TA Triumph-Adler ensures that employees can access these digital documents at any time and from anywhere.

When processes need to be streamlined, TA Triumph-Adler delivers tailor-made solutions. Our services include customised analysis and consulting for business customers as well as implementing an IT-based document workflow. Our multifunction printers can do much more than print, copy and fax: by digitising documents as they are scanned and allocating them straight into the appropriate folders, they become facilitators of digitisation.
Rely on our unfailing service
We set the standard when it comes to service - even beyond Germany's borders. Our professional services do not use subcontractors or external companies and rely on competent in-house expertise. With 500 service employees based at 27 sites across Germany, who look after more than 313,000 systems, TA Triumph-Adler has the most extensive service network in the industry. Our unique, nationwide service model keeps us closer to our customers than our competitors - quickly, reliably and around the clock. Being close to our customers pays off twice over, because the better we know their processes and structures, the more profitably we can act on their behalf. 

The UTAX brand is also part of TA Triumph-Adler. Its products are sold exclusively through certified partners and through distributors abroad.