Digital contract management
A handshake is considered a contract among respectable business people. Such a handshake naturally does not cover the details. This can come back to haunt you if your respective recollections of that conversation no longer align. Digital contract management offers the solution, with the latest version of all contracts available for all the relevant parties to see, including all the details.

Digital contract management is a module of an ECM solution. These software solutions capture, structure, manage and archive documents. Digital workflows monitor the documents as they pass through all the stages of the process. ECM solutions allow the user to see how far the document has moved on its journey at any time, as well as the next step of the process. This saves time, cuts costs and ensures transparency – especially in contract management. What's more, you can choose whether to integrate our ECM solutions into your IT systems or use them in the cloud with yuuvis® RAD as a Service.
The advantages of digital contract management
The ECM module for contract files automatically reminds you of deadlines for any payment, maintenance or contract expiry dates. It provides all those involved with the information they need at the touch of a button and even when they are out and about. Other benefits include:
Huge time savings in creating, managing and amending contracts
Comprehensive overview of the contract processes, setting of milestones and resubmissions for the entire duration of the process
Incoming contracts are identified, automatically distributed and compared with existing data *
Structured visualisation and allocation of all of a given customer's documents
Cost advantages owing to optimised use of quotas and conditions
Planning security thanks to timely start of renegotiations in the event of an expiring contract
*For matching Ad-ons (e.g. ABBYY)
Digital contract management avoids hassle as well as unnecessary searching. Contracts tend to be lengthy - finding the job you want in paper files, phew, that can take a long time. It is wise to digitise contracts for this reason alone. Supplier contracts in particular, but also rental, credit and service contracts are especially suited to digital contract management – if only because of the complex, frequently changing terms and conditions.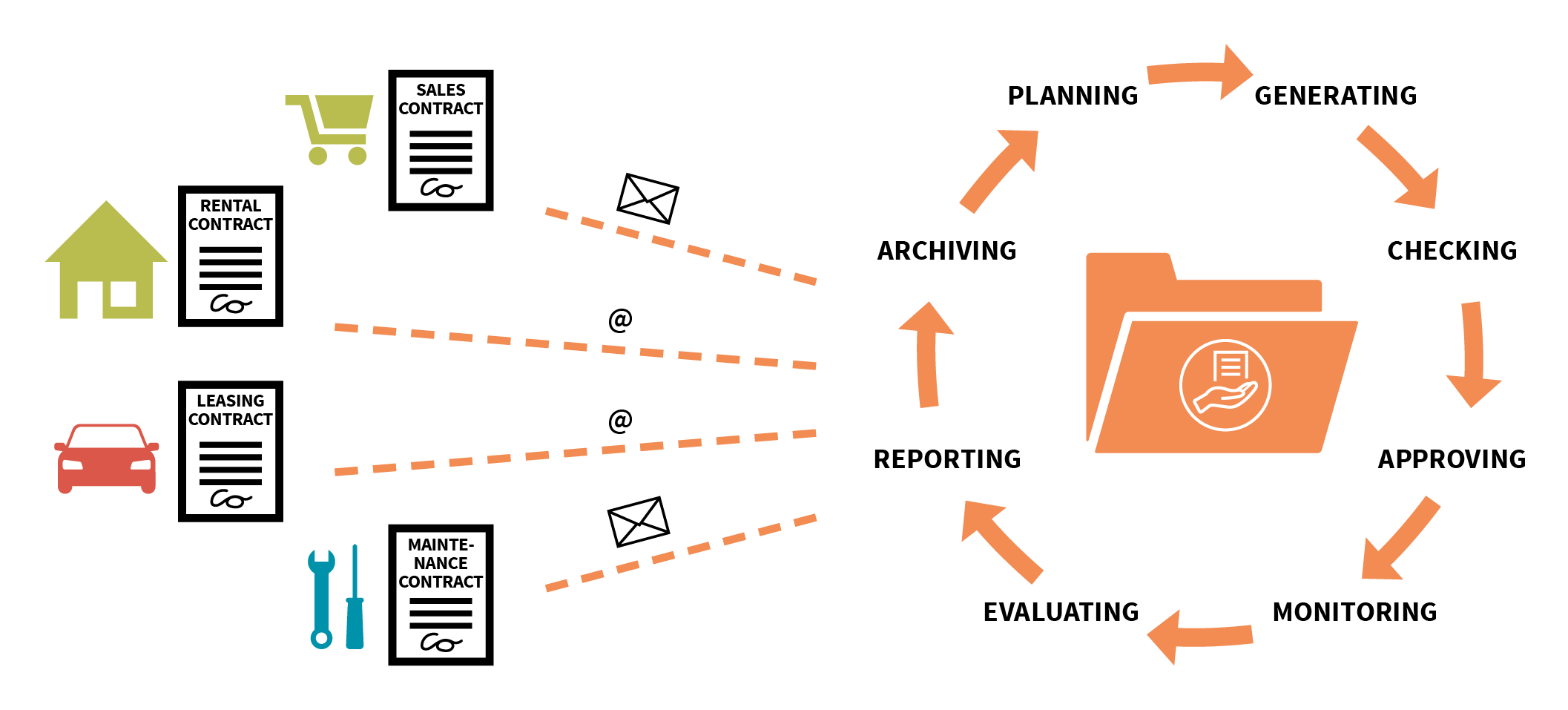 You might also be interested in: