Digital personnel management
Digital personnel files do away with the clutter created by paper files and establish coherent processes. Their main advantage is their ability to bundle information from different systems and display it on the cover of the file. Tasks that previously had to be performed laboriously by hand are now done with the click of a mouse. The benefits include:
Central digital management of all personnel files with individual register structure and integrated full text search
Mandatory file structure that can be adapted as needed
Automatic filing of documents with barcode integration based on document types and metadata in the file structure *
Access or read permission via authorisation key
Record of the different versions of individual personnel files
Comprehensive rights concept
Straightforward, audit-compliant archiving
Template and deadline management
Monitoring of mandatory documents (such as employment contracts)
Automated follow-up if required
*For matching Ad-ons (e.g. ABBYY)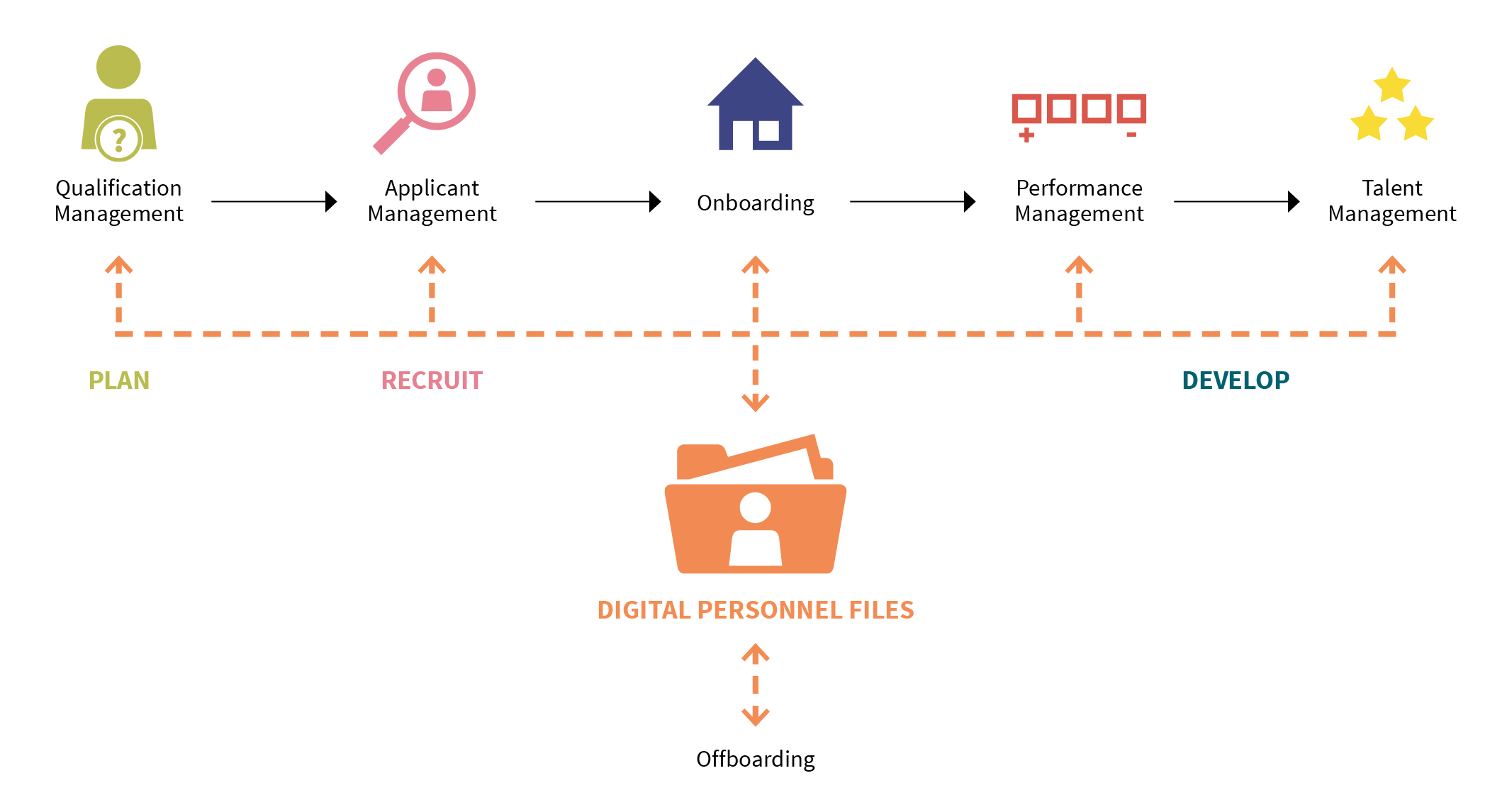 ECM: the path to digital personnel files
From personnel planning and management to payroll accounting and further training measures, the tasks performed by the HR department are heavy on documents. This makes it all the more gratifying when the digital personnel file "thinks for itself", for example when it automatically sends an email before a fixed-term contract expires. Coordinating the annual staff performance reviews is also made easier, as appointments can be coordinated individually and automatically entered in the calendar.

Digital personnel management is a module of an ECM solution. ECM stands for Enterprise Content Management. These software solutions capture, structure, manage and archive documents. Digital workflows monitor the documents as they pass through all the stages of the process. ECM solutions allow the user to see how far the document has moved on its journey at any time, as well as the next step of the process. This saves time and costs and increases transparency – in human resources in particular.

You can choose whether to integrate our ECM solutions into your IT systems or use them in the cloud with yuuvis® RAD as a Service!

You might also be interested in: